It's officially December and Christmas is just around the corner.  When I take a walk or go for a short run, I see beautifully decorated Christmas trees shining brightly through the windows of neighbors' homes.  What I love most about Christmas is the scent of a freshly cut tree, a peppermint stick melting in a cup of hot chocolate, gingerbread cookies baking in the oven, and the warmth emanating from a wood-burning fireplace. Most of all, I enjoy Christmas decorations from the stockings hanging on a fireplace mantle, garlands covering stair banisters, lush wreaths on front doors, and colorful lighting installations.  How will you decorate your home or office for the holiday season this year?  Here are a few Christmas decoration ideas to inspire you to celebrate Xmas with festive love and gratefulness in your heart before the start of a new year.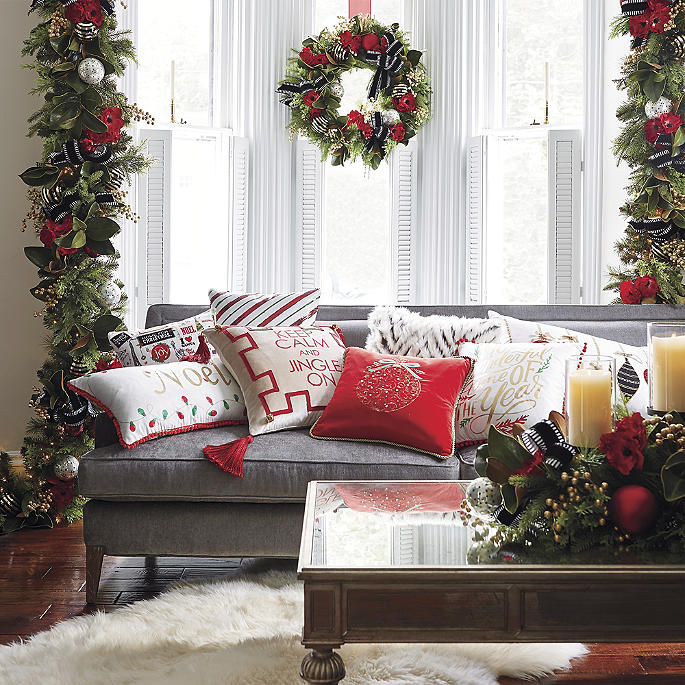 Stockings

Stockings are a fun way to bring in some festive and colorful creative cheer to your home or office space.  They come in all kinds of sizes, materials, and colors.  You can create your own custom personalized stockings through sites such as Etsy or Merrystockings.  Choose from velvet, cableknit, wool, burlap, cotton, and more in solid colors, plaid, Christmas characters, and different Christmas patterns. Hang them on your fireplace mantle or if you don't have one, hang them on the wall above your sofa to create a small gallery wall.
Garlands
Decorate your stairs with faux or live garlands filled with all kinds of accents from vibrant colored ornaments to berries, pinecones, LED lights, tinsel and much more.  There are so many options when it comes to decorating your banisters with garlands like this lush majestic garland from Frontgate. You can make it an all white Christmas with garlands in various shades of white or a colorful vibrant Christmas with blue or pink garlands.

Wreaths
You can't have Christmas decorations without a wreath! Wreaths are a common tradition during the holiday season and there's nothing quite like displaying wreaths in various sizes and materials as artwork to create a gallery wall or to hang on your front entrance door to wow your guests.  Nowadays, you can find wreaths made out of all kinds of fun materials from succulents to pinecones, berries, cinnamon sticks, gourds, eucalyptus, herbs, and much more either as a faux wreath or a live wreath. Check out this mixed succulent wreath from Williams Sonoma.
DIY Wall Christmas Tree
If you live in a small space and don't have room for a real or artificial Christmas tree, not to worry.  There are creative and unique ways to make your own DIY Wall Christmas tree that fits your space in a vertical fashion.  You can use branches, twigs, shelves, cards, corks, garlands, decals, and much more. 
Seasonal Scents
I love the smell of Christmas, especially the fragrance of a freshly cut tree. If you have an artificial tree, there's lots of ways to incorporate the smell of Christmas into your home or office through candles, essential oils, sprays, incense, and potpourri to name a few.  Fill the air with some balsam fir incense, eggnog scented candles, peppermint essential oils, or gingerbread cookies baking in the oven. There's nothing quite like stepping into a space filled with the smell of Christmas and surrounded by the warmth of family and friends.


Holiday Cards

Not sure what to do with all the holiday cards you received from family, friends, and coworkers?  Create a focal point in your living room or entrance wall by displaying them in gallery style which is very popular right now.  Or, you can create a DIY wall christmas tree with holiday cards displayed in the shape of a tree. There are lots of ways to utilize your holiday cards without throwing them out.

So how will you decorate your home or office for Christmas this year?  Let me know!