Thanksgiving is coming up in a few weeks and it's all about getting together with family and friends and giving thanks for all the wonderful things that has occurred in life.  What better way to to make your home warm and inviting than with festive Thanksgiving decor?  You can start on a small scale by adding thanksgiving themed pillows, cozy throw blankets, and a harvest wreath or go on a bigger scale with an accent wall by painting it in fall colors like rust orange or chocolate brown. Whether it's a creative centerpiece or a fun display on your fireplace mantel, these Thanksgiving decoration ideas will be sure to inspire your home this holiday season.
1. Accent Pillows
Pillows are an easy and affordable way to bring in some festive Thanksgiving decor, especially pillow covers in a "Give Thanks or Be Thankful" theme.  You can add fun accent pillows in patterns of pumpkins and turkeys or create texture with velvet covers in mustard gold or deep red. Your guests will feel cozy, and snug right on your couch while sipping apple cider.


2. Harvest Wreath
A harvest wreath is a beautiful and colorful focal point to include in your space.  You can hang one on your entry door to welcome guests in, above your fireplace mantel as a focal point, or create a gallery of hanging wreaths in various sizes and colors as artwork in your living room. Everyone loves a beautiful, fun wreath to admire. You can purchase one from retail stores such as Pottery Barn or DIY with family and friends.

3. Festive Plants
When I think of holidays, I think of plants such as poinsettias and amaryllis.  You can add beautiful red poinsettias on your porch, add foliage in fall colors on your coffee table, or place one on your console by the entryway.   Garlands, berries, and pine cones can be used to adorn your fireplace mantel or your dining table.  The vibrant colors and textures that characterize autumn foliage makes a warm fall statement in your home.




4. Place Card holder
Create a beautiful table setting with place card holders for each guest with their names on the place cards.  There are lots of fun name card holders from turkeys to pumpkins, pinecones, rustic wood stumps, and more. Your guests will appreciate the thought and care you took behind organizing the seating arrangement.  Top it off with your guests' names elegantly printed in a beautiful typography on heavy weight paper to impress them.
5. Throw Blankets
There's nothing quite like wrapping yourself in a cashmere or fleece throw blanket and sipping hot chocolate in front of a warm fireplace.  Throw blankets feel soft on your skin and keep you comfortable and happy.  They come in all kinds of materials and textures from fleece to cashmere to faux fur and sheepskin.  You can drape a plaid or knitted throw blanket across the arm of your couch, across your bed, or over the back of your lounge chair.  Your guests will love you for decorating your space with luxurious throw blankets.
6. Napkin Ring
Thanksgiving is all about giving thanks and being thankful, so set up your dining table with a gorgeous golden brass napkin ring that spells out "thankful" in a stylish script. Combine with porcelain accent plates or cotton napkins that expresses Thanksgiving sentiment in a single word: "Thankful!" Adorn your dining table with garlands, a table runner, or with a bouquet of fall flowers in a cornucopia.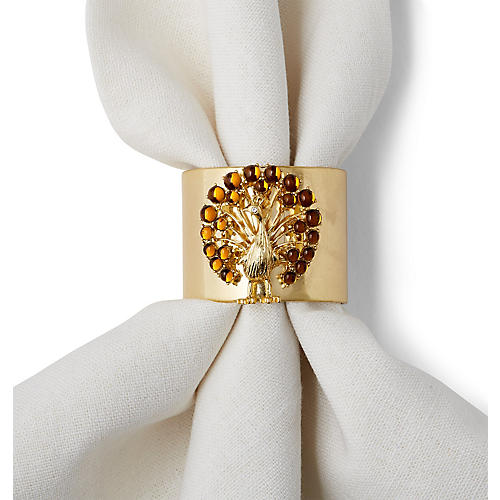 7. Dinnerware
Food is a big part of Thanksgiving and a beautiful tablescape requires elegant tableware to serve turkey, mashed potatoes, cranberry, pumpkin pie, and desserts on. However, plates, platters, glassware, and tureens aren't only used as dinnerware.  They can also be used as decoration when displayed on a custom built-in niche, in a glass front bookcase, or on open shelves in your kitchen.  You can also hang Thanksgiving themed plates in various sizes above your fireplace mantel as artwork. Displaying dinnerware adds color and textural elements to your space.


8. Coffee Table Books
Freshen up your coffee table this fall season with a holiday guest book, magazines, or cookbooks. Style your living room with festive books, Thanksgiving objects, and holiday photographs on your bookcase, on your entryway console,  or on your dining room buffet.  Your guests will appreciate your beautifully styled home and you will be sure to entertain them this holiday season.
Will you incorporate all or some of these Thanksgiving decoration ideas in your space?  If you need any help decorating your home or office this Thanksgiving or just need some ideas to spruce up your home with holiday decor, please contact me!